Hecathe Noctis

Dragon Balls Collector

Posts : 149
Points : 44059
Join date : 2014-08-02
Warning Level :

on Sat Apr 07, 2018 11:44 am
Hi folks!!!

I was here a long, long time ago... but I had a lot of problems and I couldn't came here often. When I come back the forum was closed and I missed a lot.
Now I received a message on my e-mail telling me the forum was opened again or someting like that (say 'present' to a dead forum).
I was curious so I come here... and I had a great surprise. :)
I hope to make good friends. I hope to be a good friend too. <3
I still have problems (it's life, right?!). I lost my brother a year ago and so on... but I'm the still person. Maybe with more sadness or a little crazy... but me.

Now I'm asking to the Administrator to change my nickname (please) to Soniak, that's my real nick. And I'll promise I'll put a lot of effort to be here and participate more. I'm glad to see the forum is on.

Wishing lot of happy days and sending a huge hug,

Soniak
-------------------------------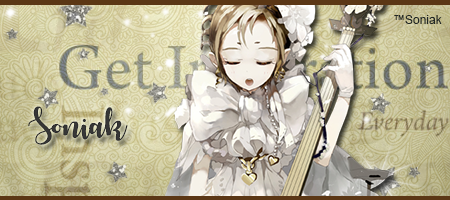 "Even today... I'm waiting for that hand. Though not remembering more... your name, your face... or anything else about him." Misao Harada (Black Bird)
awooooooooO

Dango Lover

Posts : 877
Points : 56119
Coins : 83
Join date : 2013-03-10
Warning Level :
Member's Awards :


Marangal na Award

on Tue May 15, 2018 12:34 am
Hello Soniak
I'm really happy that you come back to the forum. WELCOME BACK.
Come and join us to our new chat box. Just click DISCORD add on the left side of the website.
See you there and have a good day.
-------------------------------
Empress

TNMAA FinesT

Posts : 1900
Points : 48417
Coins : 364
Join date : 2014-02-26
Warning Level :
Membership :

on Fri May 18, 2018 1:55 am
-------------------------------
I ACCIDENTALLY DID THAT ON PURPOSE!
Anilist.co | TNMAA Chatbox | TNMAA Blogspot | Myanimelist.net

Permissions in this forum:
You
cannot
reply to topics in this forum