I'm would like to announce that a tagging system is now available to use for all members of this forum.
Just type
Code:

@+username
of the member or press the name of the member you want to tag on it's avatar from the post. Once done the color of the tagged username will change to green and automatically linked to its profile. A notification will appear to those who are tagged.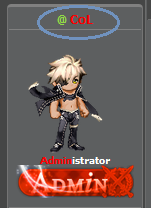 or if you're lazy to type the @ sign you can press this button (still fixing some bugs about the icon)

Thank you.
@Ranzer


Last edited by Ranzer on Thu Mar 03, 2016 8:48 am; edited 1 time in total (Reason for editing : Additional info)