Ranzer

Administrator Ranzer

Posts : 2774
Points : 53311
Coins : 1462
Join date : 2012-07-07
Warning Level :

on Thu Feb 11, 2016 1:36 pm
I'm would like to announce that a tagging system is now available to use for all members of this forum.
Just type
Code:

@+username
of the member or press the name of the member you want to tag on it's avatar from the post. Once done the color of the tagged username will change to green and automatically linked to its profile. A notification will appear to those who are tagged.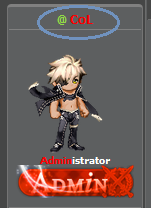 or if you're lazy to type the @ sign you can press this button (still fixing some bugs about the icon)

Thank you.
@Ranzer
-------------------------------
Ninja Moves Admin!
I'm on haitus but I will still visit the forum when I have time.
New Here? Spare some time to read the links below.

»Rules and Regulations.«

»Rules and Regulation V2«

Wanna check our Chat Box? Try reading the rules first.

»Chatbox Rules«

»Click Me to Enter our Chatbox«
Kisechii

Forum Moderator

Posts : 2989
Points : 30207
Coins : 28827
Join date : 2014-05-17
Warning Level :

on Tue Mar 01, 2016 4:44 pm
-------------------------------
Ebi Senpai <3

Permissions in this forum:
You
cannot
reply to topics in this forum